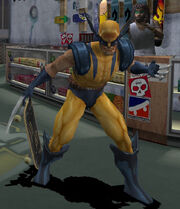 Wolverine is an unlockable playable character in Tony Hawk's Pro Skater 3. Wolverine is a superhero from the Marvel Comic book series: X-Men. He is the last Marvel character to appear in the Pro Skater series of the Tony Hawk Games, as Iron Man later appeared in Tony Hawk's Underground. In the Xbox, Gamecube, PS2 and PC versions of the game, Wolverine is unlocked by completing all career goals and getting gold in all three competitions with two characters. In the Nintendo 64 and PSX versions, however, you must complete all of the gaps in the game. His model in the Xbox, Gamecube, and PS2 versions of the game appears to be from the game "X2: Wolverine's Revenge" (though he uses his classic comics uniform in THPS3; in X2, Wolverine wears the black leather jacket uniform designed by Frank Quitely as seen in Grant Morrison's New X-Men).
External links
Edit
Community content is available under
CC-BY-SA
unless otherwise noted.