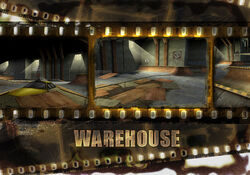 The Warehouse is the first level of Tony Hawk's Pro Skater. It is located in Woodland Hills, California. The level has become somewhat iconic due to its appearance in multiple Tony Hawk games.
Doesn't have any real world analog, however Woodland Hills is where Neversoft headquarters was located.
High Score - 5,000 Points
Smash the Boxes
Get S-K-A-T-E
Find Hidden Tape
Pro Score - 15,000 Points
THPS2(GBA)
Edit
High Score - 20,000       $1500
Pro Score - 50,000         $1750
SICK Score! - 150,000   $2000
Collect S-K-A-T-E           $1500
Destroy 5 Crates            $1250                                
Collect 5 Spray Cans      $1000                                     
5-0 the Big Rail              $1250                             
Hit 3 Oldskool Gaps       $1500                                    
Find the Secret Tape      $1500                                     
100% Goals and Cash    $1000
THUG(GBA)
Edit
Collect 5 Spray Cans
20,000 points
Left and Right Channel Gaps
HORSE Combos
THUG2 (as Training)
Edit
Story Mode
Edit
Learn to Ollie 
Manual 
Grind the rail
No Comply over the taxi 
Boneless over the taxi 
KickFlip over the gap 
Lip the QP 
QP Grind 
Melon off a Vert 
Learn to Spin 
Get out of a Halfpipe 
QP transfer
Sticker Slap the walls 
Tear down the wall 
Open the door 
Wallie and Grind the rail 
My first Combo 
Side Jumping Combo 
Spine Transfer the funbox 
Hip Transfer 
Skitch the forklift 
Do a real Combo
Do a McTwist
Off board
Edit
Caveman time 
Jump on the crates 
Jump and Hang
Climb the ladder 
Shimmy to the opening 
Acid Drop
New School
Edit
Arcade machine high score 
Fun with tomatoes 
Tag the place 
Hang'n Tag 
Vert Wallplant session 
Do a Backflip 
Do a Roll 
Keep a Focus
Classic Mode
Edit
High Score - 400,000 points
Pro Score - 800,000 points
Sick Score - 1,250,000 points
High Combo - 300,000 points
Collect S-K-A-T-E
Collect C-O-M-B-O
Get the secret tape
Break all the sprinklers
Down-Left Grab over the half pipe
Grab all the skateboards
Career Mode
Edit
High Score (10,000) - $100
Pro Score (25,000) - $200
Sick Score (75,000) - $500
Find The Secret DVD - $150
Collect S-K-A-T-E - $150
Collect 5 Shipping Manifests - $250
Grind 5 Small QPs - $150
Kickflip Over The Pipe - $150
Smash 5 Sets Of Boxes - $150
100% Goals And Cash - $200
Projectives
Edit
Sickest Score (200,000) - $300
Collect C-O-M-B-O - $200
Collect 8 Skateboards - $250
Land a 50,000 Combo - $150
Boneless the Magic Bum - $100
Game Appearances
Edit
In THPS2's GBA version Warehouse replaced Venice Beach, and shares the "Collect 5 Spray Cans" goal, and the infamous "secret" area is removed
THPS3's version of the level lacks several details comparing to the original. This includes the interactive objects (like boxes and barriers) and missing hook in the middle. Also player can skate the water in this version.
Source file of the Warehouse level can be found on the PS2 THPS3 CD. This file can be opened in any modern version of Autodesk 3ds Max.
THUG's GBA version is nearly identical to THPS2's GBA version, but has two major differences: The removal of the Big Rail, and the ability to Spine Transfer from the entryway to the QP's below, the only time this has ever been seen.
In THUG2's version(as Training), you can get on top of the "secret" area, and you can Sticker Slap what apears to be a crane hook.
See also
Edit
Community content is available under
CC-BY-SA
unless otherwise noted.