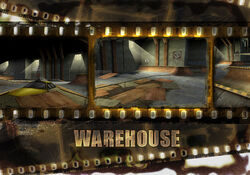 The Warehouse is the first level of Tony Hawk's Pro Skater. It is located in Woodland Hills, California. The level has become somewhat iconic due to its appearance in multiple Tony Hawk games.
Doesn't have any real world analog, however Woodland Hills is where Neversoft headquarters was located.
High Score - 5,000 Points
Smash the Boxes
Get S-K-A-T-E
Find Hidden Tape
Pro Score - 15,000 Points
High Score (10,000) - $100
Pro Score (25,000) - $200
Sick Score (75,000) - $500
Find The Secret DVD - $150
Collect S-K-A-T-E - $150
Collect 5 Shipping Manifests - $250
Grind 5 Small QPs - $150
Kickflip Over The Pipe - $150
Smash 5 Sets Of Boxes - $150
100% Goals And Cash - $200
Game Appearances
Edit
THPS3 version of the level lacks several details comparing to the original. This includes the interactive objects (like boxes and barriers) and missing hook in the middle. Also player can skate the water in this version.
Source file of the Warehouse level can be found on the PS2 THPS3 CD. This file can be opened in any modern version of Autodesk 3ds Max.
See also
Edit
Community content is available under
CC-BY-SA
unless otherwise noted.