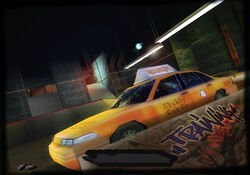 Training is the first level in the THUG 2 story mode and is a remake of Warehouse from Tony Hawk's Pro Skater. It introduces a new area, which is located behind the metal door, towards the left of the level.
If the player is new, they can get advice from different skaters. But the main objective is to talk to Tony and learn how to work Focus Mode.
The "Shabby Cab" from THPS4 can be seen here with a cracked windshield and a Neversoft logo on the Toplight. Unlike the original warehouse, where the taxi was buried in plywood boards with only the top visible, here the taxi is simply surrounded by four kickers.
It is possible to reach New Jersey from this level but is unfinished and can only be done through Mods/glitches.
According to the Level selection map screen "Training" is located in Idaho.
Community content is available under
CC-BY-SA
unless otherwise noted.