Tony Hawk's Pro Skater HD, or THPSHD, is an extreme sports video game developed by Robomodo and published by Activision in 2012 for Xbox 360, PS3 and PC. The developers promised to combine the best elements of original game, upgraded for today with sharp visuals and fresh content. The game was removed from the Steam store on July 17th, 2017.
Since this is a remake of the original games, a lot of features from modern games were cut off. Even though the developers explained the lack of most features using the "classic feel" argument, there are obvious differences between the original games and the remake.
The most notable differences are:
White screen instead of bail recovery animations.
The game doesn't support local split screen.
There are no skate videos in the game.
Manuals were not in the original THPS.
Rail balance bar only appeared in THPS3.
Players couldn't balance lip tricks in the original games.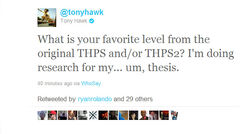 The level list was a subject to discuss during the development. Since Tony Hawk asked fans about their favorite level on Twitter, tons of "Top 5 levels" articles spawned around the web. However, it's easy to spot that every level from the final level roster was already reused once: Venice, Hangar, School 2 in THUG, Warehouse (as Training), Downhill Jam and 3 DLC levels in THUG2, Mall and Marseille in THAW. It is known that Robomodo used THUG2 source code, which might explain the level choice.
Online mode allows up to 4 players to join the host game. Unlike in previous installment, players are forced to wait for other players in lobby without being able to play (ironically, this is mostly how LAN play functioned in THPS2 on PC). Online play is not available in the PC version of the game.
Full article: Tony Hawk's Pro Skater HD Achievements
Classic
Goldfinger - Superman
Anthrax feat. Chuck D - Bring the Noise
Powerman 5000 - When Worlds Collide
Consumed - Heavy Metal Winner
Lagwagon - May 16
Millencolin - No Cigar
Bad Religion - You
New
Pigeon John - The Bomb
Lateef the Truthspeaker - We the People
Pegasuses-XL - Marathon Mansion!
Apex Manor - Teenage Blood
Telekinesis - Please Ask for Help
El-P feat. Trent Reznor - Flyentology (Cassettes Won't Listen Remix)
Middle Class Rut - USA
Metallica - All Nightmare Long (DLC)
This title caused a huge resonance in the community. Franchise fans hoped that Robomodo will use this chance to develop a successful title that will bring the franchise back on the track after two not very successful games. Game is mostly criticized for bad skater controls, poorly working game mechanics (like Wallride) and lots of glitches. Most of the noted glitches were tracked by players and reported on Robomodo Facebook page, though they were ignored. One of notable examples was AndyTHPS proposing the way to fix wallride glitch. Players also did not like the lack of revert move and threw in lot of negative feedback about it, a likely reason why the DLC pack was released. This game currently holds a score of 67 on Metascore.
Since the game is built using Unreal Engine 3, it was found that user can change most of default graphical settings manually, however, no UI was implemented in the game itself. This and the fact that Revert was found in the game code before DLC led to the apparition of the Community Mod that adds a classic launcher and a few game fixes. It is likely that this release forced the developer to come up with a free patch that enabled reverts before THPS3 DLC.
This is the first game in the series where Tony's son Riley Hawk is a playable character.
Community content is available under
CC-BY-SA
unless otherwise noted.