Template:GameTony Hawk's Pro Skater 3, often called THPS3 or Tony Hawk 3, is a third video game in the Tony Hawk's series. It was developed by Neversoft and published by Activision (SUCCESS Corporation in Japan) in 2001 for the Nintendo GameCube, Game Boy Color, PlayStation 2, and PlayStation. In 2002, it was published for the Nintendo 64, Xbox, PC and Game Boy Advance. It was the first game released for the PlayStation 2 supporting online play, and the last game released on the Nintendo 64 in the United States.
The game was unusual for having advertising in the form of billboards; while the previous games in the series featured advertising, non-skating brands can be seen for the first time (since the level Downhill Jam in THPS1). Such brands include Taco Bell, Nokia and Jeep.
Bob Burnquist is absent in this game, due to his appearance in another skateboarding video game, ESPN X Games Skateboarding, during that time of year, although he would return in it's sequel.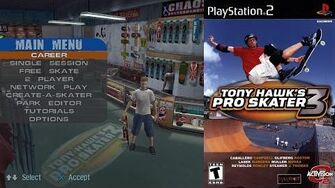 Game features
Multiplayer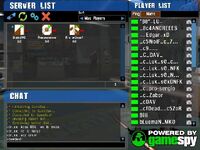 The game stood out in the franchise for being the first title to have online capabilities. Users could connect directly to other players online on the PlayStation 2 version—even prior to the launch of the network adapter, with a USB Ethernet adapter, or on PC, where one could use the GameSpy lobby to play online, or simply play LAN on a local area network. The original Xbox version lacked online support completely, but players found a workaround in the form of System-Link bridging.
Revert
THPS3 saw the introduction of the Revert - one of the most influential moves in the series, a trick that enabled vert combos to be tied together with a manual by tapping a button when landing in a quarterpipe. This allowed for much longer combos than in the previous two games, where landing in a quarterpipe would finish a combo.
Hidden combos
Hidden combos are variations of standard tricks that can be performed as flip, manual or grind tricks. For example, double-tapping the flip button would, naturally, make the character perform a double flip. However, number of extra tricks is limited and they take more air time, so it's impossible to land them in flatland. This system would later be refined in THPS4, known as double-tap tricks and manual/lip/grind extensions. The interesting ability that was cut out in following games is flip-grab blending tricks. So, Kickflip could be easily transformed into Kickflip to Indy or Kickflip to Crail.
Lip/Rail Balance Bar
THPS3 introduced a balance bar for lip tricks. Grind Balance Meters were intorduced in the GBA and Xbox Versions in THPS2, but the lip balance meter was still non-existent.) Also, the skater could ollie from the lip trick,giving the ability to ollie, perform a flip trick to revert to keep your combo going nicely.
Big Drop removal
THPS3 does not feature Big Drop, which was introduced in THPS2. The Big Drop remained in the PS1 and N64 versions due to those versions still using the Apocalypse engine. The PS1 big drop icon was changed in THPS3 whereas the N64 version recycles the THPS2 design. None of the later games have Big Drop, either.
Pedestrians
The first game in series to introduce pedestrians.
Custom female skaters
THPS3 was the first game in the series where you could create custom female skaters. This feature was built and planned during the development of Pro Skater 1&2 and was to be introduced with the PlayStation version of THPS2 but was held back until the third installment of the series. THPS2x was intended to show off this function prior to the release of THPS3 on the PlayStation but due to Treyarch being unable to complete the game in time it was released unfinished and strangely within a matter of weeks of the release of THPS3 on PlayStation. Chronologically, THPS2X was the first to feature female create-a-skaters.
Control Zone multiplayer game
Control Zone is the exclusive THPS3 game type which didn't appear in subsequent games.
Available Characters
Game Levels
Main
Next-Gen only
Xbox only
PS1, N64 only
Downhill, based in Rio De Janeiro, Brazil
GBA only
GBC only, cancelled for other platforms
Platform differences
The N64/PS1 versions, due to limited power, are based off of Tony Hawk's Pro Skater 2. This also applies to the PS1 version of Tony Hawk's Pro Skater 4. The grunts from THPS2 also appear in those two ports. The animations for skating were altered to resemble that of the next gen ports. Strangely, the female skaters in the PS2/Xbox/PC version used male grunt sounds, while in PS1 version they're correct, using the same one from THPS2. The PS1 grunts are also used in all GBA ports for all existing Tony Hawk games (THPS4, THUG, and THUG 2).
Cruise Ship level is only featured in next-gen versions of the game.
Oil Rig level is featured in Xbox version only.
Downhill map is only featured in PS1 and N64 versions.
Some of the pro skaters wear different outfits between the next-gen and the last-gen ports. Bucky Lasek wears a black-and-white backpack in the PS1 port, whereas in the PS2/Xbox/PC versions he doesn't. Chad Muska's is entirely different. In the next-gen version, he wears all blue and purple. In the last-gen, he wears a grey tank top, and black pants.
At the moment Gearbox was working on new Doom title and they decided to include Doom's protaginist in their THPS3 PC port. Doom Guy can be unlocked only by entering "idkfa" cheat (same cheat unlocks all weapons in Doom game).
Special character X-Ray is a skeleton. He is featured in Xbox version only.
Next-gen versions provide way more secret characters, they are limited to 2 in PS1 and N64 versions - Wolverine and Officer Dick.
Double tap tricks, which were called hidden combos at the moment, are featured in next-gen versions only.
Only PS2 and PC version of the game feature online multiplayer.
PC port lacks some next-gen features (instant replay for example).
Music credits video was cut from PC version of the game.
While PS1 and N64 levels repeat general shape of their next-gen versions, there are lot of differences like elevator in Los Angeles or extra area in Skater Island.
Japanese PS2 version of the games features extra 3 japanese skaters; Junnosuke Y, Shin Okada, and Hiroki Saegusa.
Some PC port conent differs from the final PS2 version content. This includes Bam Margera shirt (white vs black) and level skies. Most notable in Roswell: it's black starry sky on PC and twilight on PS2.
PS2 version features a demo version of the game Shaun Palmer's Pro Snowboarder in the options menu.
Soundtrack
AFI - "The Boy Who Destroyed the World" (from All Hallow's EP, 1999)
Adolescents - "Amoeba" (from their 1981 self-titled album)
Alien Ant Farm - "Wish" (from ANThology, 2001)
Bodyjar - "Not the Same" (from How It Works, 2000)
CKY - "96 Quite Bitter Beings" (from Volume 1, 1999)
Del the Funky Homosapien - "If You Must" (from Both Sides of the Brain, 2000)
Guttermouth - "I'm Destroying the World" (from Covered with Ants, 2001)
House of Pain - "I'm a Swing It" (from Same As It Ever Was, 1994)
KRS-One - "Hush" (from The Sneak Attack, 2001)
The Mad Capsule Markets - "Pulse" (from OSC-DIS, 1999)
Motörhead - "Ace of Spades" (from Ace of Spades, 1980)
The Nextmen - "Amongst the Madness" (from Amongst the Madness, 2000)
Ozomatli - "Cut Chemist Suite" (from their 1998 self-titled album)
The Ramones - "Blitzkrieg Bop" (from their 1976 self-titled album)
Red Hot Chili Peppers - "Fight Like A Brave" (from The Uplift Mofo Party Plan, 1987)
Redman - "Let's Get Dirty (I Can't Get in da Club)" (from Malpractice, 2001)
Reverend Horton Heat - "I Can't Surf" (from Liquor in the Front, 1994)
Rollins Band - "What's The Matter Man" (from Nice, 2001)
Xzibit - "Paparazzi" (from At the Speed of Life, 1996)
Zebrahead - "Check" (from Waste of Mind, 1998)
Reception
The game has sold 2.4 million copies worldwide. The game was very well received by the gaming press, the PS2 version earned a rare perfect 10 score from Gamespot, one of only seven games to ever receive said score. It was also awarded the best sports game award at the 2001 E3. IGN rated the game 9.7/10, and ranked it #21 in the Top 25 PS2 Games of All Time. The game is currently the top rated PS2 game on the review aggregate website Metacritic, with an average score of 97/100, tying with Grand Theft Auto III.
External links
Gallery
Community content is available under
CC-BY-SA
unless otherwise noted.