Fire Emblem Warriors: Three Hopes - The Loop
Play Sound
Tony Hawk's American Wasteland is a video game that has been released for the PS2, Xbox, Xbox 360, GameCube and PC. The game was developed by Neversoft, and published by Activision. Aside from skateboarding, bicycle riding is also present in the game. It was released on October 18, 2005.
Features / Classic Mode
[
]
Tony Hawk's American Wasteland is the first game in the Tony Hawk franchise that allowed players to play in one large level without loading times in between. In the September 2005 edition of Game Informer Magazine, a map was shown displaying THAW's Los Angeles with an insert of an overhead view of the Boston stage from Tony Hawk's Underground 2 for comparison. The Boston level appeared to be about three quarters the size of one THAW area, with the exception of the "Vans Skatepark" and "Casino" areas.
The game also features the return of the Classic Mode, which allows the player to complete a series of goals in certain levels within a two-minute time limit.
Multiplayer
[
]
Whilst every platform features local / split-screen multiplayer, American Wasteland on the PlayStation 2, Original XBOX, XBOX 360 and PC supported online multiplayer, up to 8 players.
American Wasteland is the first title in the series to support XBOX LIVE, a paid-service offered by Microsoft so that players can compete with each other online. -- Tony Hawk joked about this in an interview, as TH Underground 2 was purely offline on the original XBOX, and criticized for such considering PlayStation 2 and PC featured network support.
While XBOX LIVE 1.0 is officially discontinued as of 2010, rendering the original XBOX version completely offline, American Wasteland is still playable on *Playstation 2, *PC and Xbox 360.
The Xbox 360 version just requires a valid Xbox LIVE Gold subscription on your Microsoft account. - THAW Online is still regularly active on Xbox 360; You can find the active community here: NicheX (PS2 welcome).
Both the PlayStation 2 and PC versions require a DNS change in order to be played online in the current year, however it should be mentioned that the PlayStation 2 exclusive 'Collectors Edition' / Special Edition of American Wasteland requires an additional DNAS Bypass patch, meaning you cannot use the original disc to play online; You will have to backup your disc and patch the image.
Multiplayer Modes
[
]
For the first time in the series, American Wasteland features an additional twist to the returning Classic Mode, that being Local 2-Player Cooperative.
Local 2-Player Cooperative is similar to Goal Attack except players work together to complete goals instead of trying to complete them first.
Aside from this new inclusion, American Wasteland features the following game types for multiplayer:
Trick Attack
Score Challenge
Combo Mambo
Slap
King of the Hill
Graffiti
Firefight
Elimiskate - Online only
Scavenger Hunt
Goal Attack - Online only
Capture the Flag - Online only
Free Skate
Pot O' Gold
Pot O' Gold is a new mode in American Wasteland. It's similar to King of the Hill, except instead of hoarding the crown for as long as possible, you hoard the pot of gold and can only score while holding the pot; Whoever has the highest score wins.
Interestingly enough, the Pot O' Gold has a different model on the PlayStation 2 version for THAW. Additionally, once the match timer is up, you can only steal the pot on PlayStation 2. On Original XBOX or XBOX 360, hitting the player that currently had the pot will not cause them to drop it.
The PlayStation 2 version of American Wasteland allowed for uploading your face, to be used on custom skaters, as well as uploading / downloading graphics, skaters and even parks. Additionally, only the PlayStation 2 release of American Wasteland allows you to play Created-Parks online with others.
Following the trend of exclusive features, the PlayStation 2 and PC versions offer in-game chatting and lobby lists with ranking options whilst XBOX LIVE selects a random player or ranked match for you, depending on which preference you select; You can also host your own private friends-only lobbies,
Plot
[
]
The following applies to Tony Hawk's American Wasteland when the game is played in story mode. The terms "player" and "you" refer to the main character of the story.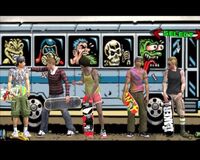 The game begins with the player choosing one of five pre-designed male skaters to play with. Upon choosing, the player gets on a bus to Los Angeles, where the player meets a blonde-haired girl named Kelly, who says she is going to LA to become an actress. The player tells her that he or she is going to get away from friends and family, who have treated the player badly.
Upon arrival in Hollywood, the player gets punched by locals, who steal his bag and tell the player to go home, with Los Angeles being a locals-only scene. Here the player meets Mindy, who tells the player that they need to sort their clothes and hair out, which are making them stand out as an outsider at the moment. The player then changes his hair and clothes, and meets two local skaters, Ian and Duane, who introduce new tricks to the player and advance the player's skills.
The player sees Mindy drawing and finds out that she is a talented artist. Her sketches are going to be featured in her skating magazine, named American Wasteland. However, Mindy hasn't gathered enough money to fund the project yet, but the player assures her it will happen. She has sketched something that catches the player's eye. The player proceeds to ask what the place is and Mindy says it is a "sick spot that you would absolutely love," but then tells the player that the spot is exclusive to local skaters. The player then pleads with her to get them in, to which Mindy agrees. However, the skate park is in Beverly Hills, and the passage to Beverly Hills is blocked by a protest against poor treatment of sheep. The player ends the protest by destroying a huge dinosaur head model that is on top of a movie theatre, which smashes into the protest.
You arrive in Beverly Hills and go outside a place called the "Skate Ranch," which is where the place in Mindy's sketchbook is. Mindy's skater friends, Boone, a bald man who goes for extreme jumps and gaps, but usually bails. Useless Dave, a short man who is "the encyclopedia of useless skateboarding trivia", and Murphy, a tall, sarcastic type who has an endless array of contacts and friends all over LA, and is always on his cell phone. He won't let you go into the ranch, unless you can keep up with their skating skills. You have to learn their performed tricks and then show them to them to prove yourself worthy of going in the ranch.
Gaining their approval, you are let into the ranch, and meet the leader of the group, Iggy Van Zandt, a very rough type, who isn't fond of outsiders. He will let you crash at the ranch if you obtain some wood for a vert ramp he is building. When you do, the vert ramp is set-up, which spurs the group to do the ranch up and make it a full-on skatepark. With the help of Murphy's contacts, you and the group embark on obtaining skate-able pieces from all over LA, the first being the destroyed dinosaur head you made earlier on.
From here on in, the overall task is to obtain pieces for the Skate Ranch, unlocking new places in LA, the first being Downtown Los Angeles, where Master Zen is, who teaches you Special and Focus, which you need to participate in the Tony Hawk AMJAM, an amateur skating contest taking place in the Vans Skatepark in Downtown Los Angeles.
You win the AMJAM, however, whilst making a short speech, you tell Tony Hawk that the last trick you performed was taught to you by Iggy Van Zandt, who, unknown to you, is living in total secrecy in the ranch, as his crime rate is somewhat extensive according to Mindy. Causing him to be arrested by the police.
Mindy then suggest you talk to the Z-Boys, the only other group Iggy has hung out with, about what to do. So you then meet skating legend Tony Alva, from who you find out that Iggy's skate ranch is actually "Green Pipes Point," a legendary snake run that got leveled many years ago. You decide it has to be dug up, and befriend Alva's friend Mega, who runs an oil rig just off Santa Monica.
While Mega is digging up Green Pipes Point, Mindy tells you that Boone was in the local street gang known as the "Black Widows". He recently dropped out of the gang but was jumped and is now missing in East LA. You join the Widows by impressing them with your spray painting, skating and BMX skills to get to East LA and save Boone, who was trapped in a sewer pipe.
After some time, you get a phone call from Iggy in jail, who explains his bail will be with him shortly. You tell him you found out about Green Pipes Point and that it is being dug up, expecting an ecstatic response from Iggy. However, Iggy hates what you have done, because he didn't own the land, and if "the owner finds out what a badass skatepark he has, he'll cash in on the place." Iggy threatens violence and hangs up.
Shortly after, you receive a text message from Mega saying that stuff is happening at the ranch. Upon arriving in Beverly Hills, the game cuts to a news report, which is about the revival of Green Pipes Point, showing pros and locals being very happy. Outside the ranch, you see the owner, Shapiro , in an expensive car, and ask why he sold it, being so legendary. The soon-to-be-ex owner doesn't care, and rides off with a snobbish attitude, pleased of his new money.
Iggy arrives with a baseball bat, and starts hitting the ranch's gate in rage. You try to apologize, but it doesn't matter to Iggy. Iggy says that it'll never be his place thanks to you. You seem to snap, and tell him that "It could've been if you hadn't been sitting on your ass all these years waiting for someone else to bail you out!" Instantly, Iggy punches you in the face, saying that there's "some things [he has] waited too long to do." You also snap at Mindy, blaming it on her because of her suggestion to do up the ranch, and insult her drawings, which deeply offends her and she storms off.
You, Murphy, Dave and Boone decide to start a project to save the ranch, by making a skate video featuring famous pros, with all the proceeds going to Green Pipes Point. You then round up many pros, impressing them with your skills to convince them to feature in the video. Whilst in East LA ready to demo, film and add skate pieces for the ranch from a bust casino, Iggy arrives, and you two reconcile. He also says that he will feature himself in the video, which the guys predict will make the fans go crazy.
Eventually, the buzz of the video has become so big that the ranch can be bought simply with the money from the pre-orders. You all leave the casino, but confronted with a vast array of police cars and helicopters. Your task is to get to the ranch from East LA, without using any public transport or cars.
When you arrive at the ranch successfully, everyone is completely overjoyed, with Iggy saying that the ranch is now his, and to celebrate, he is going throw a party at the ranch, with everyone in town invited. Mindy comes over to you on the vert ramp, and you apologize. She accepts the apology, and shows off her first edition of her magazine, American Wasteland, which she was talking about at the start of the game. Iggy comes over and spills the beans that you were the one who gave her the money to get American Wasteland published. Mindy seems flattered, and you two eventually kiss and presumably become an item.
At the end of the game, the American Wasteland is complete with various items such as the dug-up snake run, a crane, and the world famous Hollywood sign reading "Wasteland." Your skater has the respect of all the pro skaters for creating an amazing place to skate and Mindy as your girlfriend. However the game doesn't end here you can grab more pieces for the ranch and Mindy has some missions of her own for you getting big combos on the pieces in the ranch not to mention classic mode.
Available Characters
[
]
Mat Hoffman

(unlockable)
Jason Ellis (unlockable)
Robo-Tony (unlockable)

Jimbo

(unlockable)
Billie Joe Armstrong (unlockable)

Lil' Jon

(unlockable)
Iggy Van Zandt (unlockable)
Mindy (unlockable)
Boone (unlockable)
Boone in Briefs (unlockable)
Useless Dave (unlockable)
Mega (unlockable)
Murphy (unlockable)
Baller (unlockable)
Barber (unlockable)
Camera-Man (unlockable)
Carnival Guy (unlockable)
Cholo (unlockable)
Downtown Guy (unlockable)
Downtown Guy 2 (unlockable)
French Guy (unlockable)
Graffiti Guy (unlockable)
Hard Hat Guy (unlockable)
Master Zen (unlockable)
Oil Rig Worker (unlockable)

Performer

(unlockable)

Police Man

(unlockable)
Welder (unlockable)
80's Hawk (PS2 Collector's Edition Only)
70's Alva (PS2 Collector's Edition Only)
Game Levels
[
]
Story Mode
[
]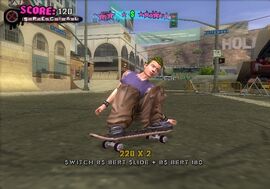 Classic Mode
[
]
PS2 Collector's Edition only
[
]
Soundtrack
[
]
Full article: Tony Hawk's American Wasteland Soundtrack
The in-game soundtrack for Tony Hawk's American Wasteland differs from many other Tony Hawk video games. The game features many indie rock, punk rock, and electro based songs, as well as hip-hop, to create the Los Angeles-feel. Such artists include: Green Day, Felix Da Housecat, Public Enemy, Fall Out Boy, The Bravery, and many others. Most other Tony Hawk video games that came before Tony Hawk's American Wasteland contained many thrash metal, hard rock, and underground rap-based songs.
The Tony Hawk's American Wasteland soundtrack was released as an audio CD in 2005. The CD contained 14 cover songs in the game, but not all the songs from Tony Hawk's American Wasteland. The CD featured songs from bands such as The Dead Boys and The Adolescents being covered from bands such as Saves the Day and the Dropkick Murphys.
The in-game soundtrack for Tony Hawk's American Wasteland originally consists of 63 songs.
Trivia
[
]
This game introduces a modified version of the balance meter where there are red and green markers and the player must land in the green or they will bail however if the "Perfect Rail" and "Perfect Manual" cheats are enabled they will go in the red but will not bail.
The English Language PlayStation 2 release of American Wasteland refers to 'Useless Dave' as 'Careless Dave', when unlocked for beating Classic Mode on Sick Difficulty.
This is the first Tony Hawk title to not feature an 'Unlock All Levels' cheat code.
The loading screens for 'Atlanta' and 'Marseille' are present in all versions of American Wasteland.
All of the 'Collectors / Special Edition' content are on the base PlayStation 2 version and can be unlocked with Action Replay.
The North American version of American Wasteland for the Xbox 360 is region free, meaning it can be played on any Xbox 360 console.
See also
[
]
External links
[
]
Gallery
[
]