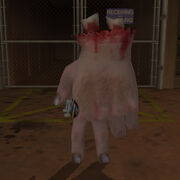 The Hand is an unlockable character in Tony Hawk's Underground 2, unlocked by completing Story Mode on the Normal difficulty. As its name implies, The Hand is a giant severed hand that is somehow capable of skateboarding.
The Hand resembles a fleshy version of Master Hand from Super Smash Bros., with both being giant disembodied hands, although it has more similarities with Thing from The Addams Family, as it is a flesh-and-blood hand rather than an animated glove.
The Hand can be a reference to the Tech Deck fingerboards where people use their hands to play with miniature skateboards.
Community content is available under
CC-BY-SA
unless otherwise noted.