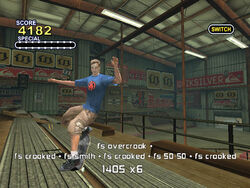 Tampa Skate Park is a level first found in Tony Hawk's Pro Skater 2X. It is a competition level in the TH2X career mode of the game, with sections for both vert and street skaters. The vert section is found outside of the building in which the player spawns, while the street section is inside of the building. The level offers something for every skater and has many trick spots to get good scores in the competition. The street section offers a mix of ramps and rails, and you can grind almost anything from bleachers to air vents in this area. The vert section has wide open spaces which allow for plenty of huge air to get great points. This level also features the daunting loop.
This level was recycled for the Tampa level of Tony Hawk's Underground, more specifically, the Tampa AM Competition. The indoor park area stayed exactly the same, but the outdoor area was heavily altered due to the level being greatly enlarged to represent Tampa as a city, rather than just the skatepark.
The player can grind a power line across to the roof of the main competition area's building. There is dog relaxing on the top of the roof on a sun lounger watching TV; jumping over him discovers a gap while he mysteriously vanishes. If the player uses the Skip to Restart cheat to access this roof, the dog will not be there.
The first time you ever enter "Tampa Skate Park" on any specific character in "Career Mode" there is a female voice intro that says "Welcome to the Skate Park of Tampa". This only occurs twice during your first run. Once at the start of the run and once and the end of your run. You can save the game before you enter to hear this as many times as you want.
There is a comical "Chalk Body Outline" at the bottom of the "Loop Ramp" referring to "Brian Schaefer's" bail, where he attempted a "Full Loop". Whilst upside down he fell, hitting his head in the process. There is video footage of this bail online.
Community content is available under
CC-BY-SA
unless otherwise noted.