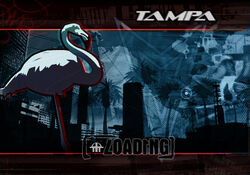 Tampa is the third level in Tony Hawk's Underground.
Origin
It is based in the Tampa Bay Area, located in the United States of America.
Points of interest
The Black Hole - Strip club featured in the level. It is based off of the 2001 Odyssey strip club near International Airport. Pro Bowl - A small 70's style skating bowl near the Tampa Am contest. Based of the real skatepark in downtown Tampa. Skatepark of Tampa based off the real skatepark in Tampa. The Tampa Am contest is also featured in the game.
Gallery