m

 

Line 29:
Line 29:
 

thps2_passcode.jpg|Passcode example

 

thps2_passcode.jpg|Passcode example

 

</gallery>

 

</gallery>

 
+

[[File:THPS2 Big Score Comp|thumb|330x330px]]

 

[[Category:Tony Hawk's Pro Skater 2]]

 

[[Category:Tony Hawk's Pro Skater 2]]
---
Latest revision as of 00:14, 19 August 2018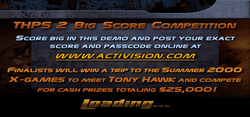 THPS2 Big Score Competition was the event organized by Activision prior to the release of Tony Hawk's Pro Skater 2. The contest was being put on from May 15 to July 28, 2000. The grand prize of $10,000 was taken by Sean Fontenot for the highest score of 3,463,009 points. All 12 finalists received a trip to the summer X-Games 2000.
In order to participate players had to obtain a copy of the THPS2 demo, which was released in the 2000 summer PlayStation Underground Jampack and the July issue of Official PlayStation Magazine. (need instructions here)
Sean Fontenot, Los Alamitos, CA
Benjamin Addair III, Surfside Beach, SC
Chris Cramer, Franklin, OH
Florian Preis, Nienburg, Germany
James Smith, Redcar, United Kingdom
Drew Cauthen, Carthage, MS
Thomas Rucker, Brentwood, NY
Hector Rodriguez, Rowland Heights, CA
Noe Valladolid, Long Beach, CA
Matthew Hand, Canberra, Australia
Bojan Jovanovic, Sycamore, IL
Oliver Meynard, Mornant, France
Community content is available under
CC-BY-SA
unless otherwise noted.