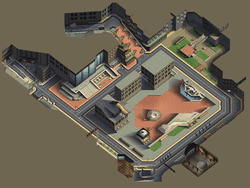 Streets is a game level in Tony Hawk's Pro Skater.
Streets level is located in San Francisco and includes several spots from San Francisco such as Lombard Street, Hubba Hideout, China Town, Clock Tower, Embarcadero Pier, Vaillancourt Fountain etc. Most of them appeared in Animal Chin movie, starring Tony Hawk.
High Score - 25,000 Points
Wreck 5 Cop Cars
Get S-K-A-T-E
Hidden Tape
Pro Score - 50,000 Points
You can find San Francisco Cable Car riding around the Streets.
Skater can't grind Cable Car railroad.
Streets is the only THPS1 level that never got remade throughout the entire franchise (although the San Francisco level in THPS4 can be considered an expansion of this one).
There is some Graffiti that reads; "SPANKY T2 DLUX". This is referencing the professional skateboarder "Kevin Spanky" and it implies that he is in fact driving the "VW T2 Deluxe Van" that is driving in circles around the roads of the level.
External links
Edit
Community content is available under
CC-BY-SA
unless otherwise noted.