Line 22:
Line 22:
 

*Spider-Man animations can be found as a leftover in THPS3 Anims folder.

 

*Spider-Man animations can be found as a leftover in THPS3 Anims folder.

 

*In Spider-Man's own game on PlayStation, also made by Neversoft, there's a billboard showing THPS2. If Spider-Man goes by it he will say "Tony Hawk! Hey I skated with that guy".

 

*In Spider-Man's own game on PlayStation, also made by Neversoft, there's a billboard showing THPS2. If Spider-Man goes by it he will say "Tony Hawk! Hey I skated with that guy".

−
 
−

==Video==

 
−

[[File:Spider-Man in THPS 2|thumb|335 px|none]]

 
 
 
 

==External links==

 

==External links==
---
Revision as of 00:54, 7 March 2018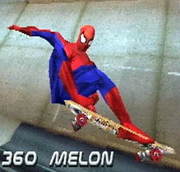 Spider-Man is a Marvel comic series character and a fictional character in Tony Hawk's Pro Skater 2. He can be unlocked by getting 100% in Career Mode with a created skater.
Origin
Spider-Man appears as a hidden guest character modeled after his appearance from the 2000 PS1 game also developed by Neversoft. While Spider-Man mostly excels as a vert skater, his other stats are still high ranking making him one of the best skaters in the game.
Appearance
Spider-Man is presented in 4 outfits originating from his home game on PS1:
Style A: default red-blue outfit
Style B: Symbiote outfit
Style C: Spider-Armor outfit
Style D: Captain Universe outfit
Special tricks
Trivia
Spider-Man is the only skater to feature 4 outfits in THPS2.
A special skeleton was used for Spider-Man's model to feature unique special tricks and poses.
Spider-Man animations can be found as a leftover in THPS3 Anims folder.
In Spider-Man's own game on PlayStation, also made by Neversoft, there's a billboard showing THPS2. If Spider-Man goes by it he will say "Tony Hawk! Hey I skated with that guy".
External links
Gallery
Community content is available under
CC-BY-SA
unless otherwise noted.