Line 1:
Line 1:
 

[[File:Loading Screen Slam City Jam.jpg|thumb|250px|Slam City Jam loading screen]]

 

[[File:Loading Screen Slam City Jam.jpg|thumb|250px|Slam City Jam loading screen]]

 
+

'''Slam City Jam''' is the seventh level in [[Tony Hawk's Underground]].

−

'''Slam City Jam''' is the "skatopia" of THUG 1. Filled with grindables, halfpipes, ramps, vert ramps, and even a Yeti Copter, this level is located within the Vancouver, Four Corners, Slip of the Knot, Suborbital Boulevard, It's Full of Stars, and Yaris One, and more other space areas.

 
 
 
−

==Origin==

+

==Origin==

 

Slam City Jam is a real world annual skate contest which takes place at Vancouver.

 

Slam City Jam is a real world annual skate contest which takes place at Vancouver.

 
 
−

==Secret Tape==

+

==Secret Tape==

 

The tape is in the glass display board (scoreboard) high above the Slam City Jam. Find a box-kind of thing on the ceiling and just smash into it and thats probably where the tape is.

 

The tape is in the glass display board (scoreboard) high above the Slam City Jam. Find a box-kind of thing on the ceiling and just smash into it and thats probably where the tape is.

 
 
−

==Trivia==

+

==Trivia==

 

*Slam City Jam also appeared in [[Grind Session]] game in 2000.

 

*Slam City Jam also appeared in [[Grind Session]] game in 2000.

 
+
 
+

== Gallery ==

 
+

<gallery>

 
+

THUG Slam City Jam prev1.jpg

 
+

THUG Slam City Jam prev2.jpg

 
+

THUG Slam City Jam prev3.jpg

 
+

</gallery>

 
 
 

{{Tony Hawk's Underground levels}}

 

{{Tony Hawk's Underground levels}}
---
Revision as of 17:57, 16 November 2015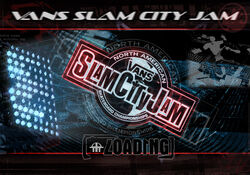 Slam City Jam is the seventh level in Tony Hawk's Underground.
Origin
Slam City Jam is a real world annual skate contest which takes place at Vancouver.
Secret Tape
The tape is in the glass display board (scoreboard) high above the Slam City Jam. Find a box-kind of thing on the ceiling and just smash into it and thats probably where the tape is.
Trivia
Gallery
Community content is available under
CC-BY-SA
unless otherwise noted.