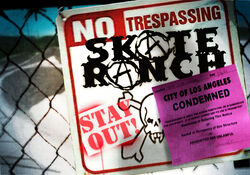 The Skate Ranch (also known as Green Pipes Point) is a level in Tony Hawk's American Wasteland. The Skate Ranch is made up of pieces that are found by completing goals and "destroying" Los Angeles in story mode, pieces such as the Hollywood Walk of Fame.
The Skate Ranch is an abandoned (American) wasteland where Iggy Van Zandt, Mindy, Boone, Murphy, and "Useless" Dave reside in.
The story begins with the Custom Skater arriving in Hollywood from a transport bus with his luggage and skateboard. The second the Custom Skater steps off the bus, the Custom Skater gets ambushed by two locals that steal his luggage. The Custom Skater is helped off the ground by Mindy who tells the Custom Skater that if he wanted to make a career out of skateboarding, that he is going to have to go to the skater to look for the right moves. After the Custom Skater learns tricks from two of Mindy's skateboarding friends, regains his luggage, and manages to knock down a dinosaur head from a small theater, the two make their way to Beverly Hills, where the Skate Ranch is located at. Mindy introduces the Custom Skater to Boone, Murphy, and "Useless" Dave. She wants them to let him in the Skate Ranch but they refuse because their positive that Iggy Van Zandt won't approve of the Custom Skater being at the Skate Ranch. After the Custom Skater proves himself worthy to Boone, Murphy, and "Useless" Dave they let him in the Skate Ranch and introduce him to Iggy. They encounter Iggy throwing skateboards into a woodchipper. There is an uncomplete half-pipe in the Skate Ranch that Iggy is building and wants wood to finish it up. After the Custom Skater brings the wood up to Iggy, the Custom Skater is then welcomed into the Skate Ranch.
Later on in the story, the player discovers the Skate Ranch to be the secret location of the famed 'Green Pipes Point' snake run that was buried over 20 years ago. Mega digs up the snake run near the end of the game, using the help of a crane digger.
Community content is available under
CC-BY-SA
unless otherwise noted.