In 2007, Electronic Arts released the video game "Skate". It outsold Tony Hawk's Proving Ground by a ratio of almost 2 to 1 on seventh generation video game consoles. A sequel to Skate titled Skate 2 has been released for the Xbox 360 and PlayStation 3 in 2009, as well as a spin-off for the Wii and Nintendo DS entitled Skate It in 2008. The series currently competes with the Tony Hawk video game series.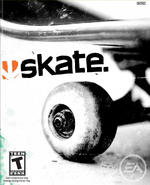 Skate (marketed as skate.) is a skateboarding video game by EA Black Box for the Xbox 360 and PlayStation 3. It was released in North America on September 17, 2007 for the Xbox 360 and on September 24, 2007 for the PlayStation 3. In Europe, it was released on September 28 and October 5, 2007 on the Xbox 360 and PlayStation 3, respectively.
Skate. featured a new type of gameplay that differs from Tony Hawk games, this gameplay was called "Flick-It", where the player initiates tricks using the analog sticks, pulling and pushing in various directions and combinations with other parts of the controller to launch ollies, nollies, grabs, manuals, and flip tricks. Mid-air spins, and other unique stunts are also performed in the same manner. Grinds require the player to land on an appropriate surface, with the landing type determining the type of grind that is performed.
The career mode for Skate takes place in the fictional city of "San Vanelona", or "San Van", for short. There are four parts to San Vanelona: the Suburbs, the Res, Oldtown, and Downtown.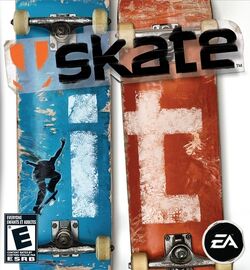 Skate It is a skateboarding video game developed by EA Montreal, Exient Entertainment and EA Black Box for the Nintendo DS and Wii. The game is a spin-off of 2007's Skate, and the developers have stated that it is not a port or sequel but rather an original game. It was released on November 19, 2008, the day after Tony Hawk's Motion was released on the Nintendo DS. In the game's career mode, the story starts off with San Vanelona having an earthquake. After the earthquake, San Vanelona is completley demolished with most, if not all, of it's residents gone from San Van. In addition to San Vanelona being playable, players can also access real-world locations by unlocking them in career mode. This game is also the first Skate game where players can create female skateboarders. Custom male skateboarders are still available.
Game Levels
Edit
San Vanelona
Edit
Elementary School
Matrix Plaza
Library
Community Center
Danny Way's Mega Compund
Spillway
DIY
Plan B indoor skatepark
World Map
Edit
London
Barcelona
Paris
Shanghai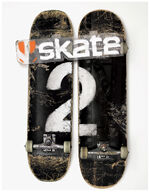 Skate 2 was developed by EA Black Box and distributed by Electronic Arts. It was released the third week of January 2009.
Skate 2 features double the amount of tricks than there were in the original Skate, including foot-plants, hand-plants, rail slides, fingerflips, lip tricks, ollie norths, easier hippie jumps and lastly the ability to skitch (pulling on the bumper of a moving car while on a skateboard to gain speed). Skate 2 also features the choice of creating either a male or female character, rather than just male. Players can also get off their board and walk. While on foot, players can move certain objects in the world, creating their own lines. Nearly 100 different types of objects are movable by the player. Skate 2 also offers a graphics creator which includes editing both your skateboard and clothing.
Skate 3 is a skateboarding video game developed by EA Black Box and published by EA. It's setting is on a new fictional city called Port Carverton, and the game's tagline is "Team up. Throw down."
Skate 3 is the most popular and successful Skate game franchise, have been selled even more than the previous game, well known game due to it's glitching problems and bugging galore (example: hitting a a car can make your character's body deformed into a funny fashion), with the option of hitting civilians with your skate/fists and creating your own skatepark, the music playlist has good songs overall.
External links
Edit
Community content is available under
CC-BY-SA
unless otherwise noted.