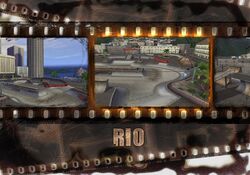 Rio is the third level and first competition level in Tony Hawk's Pro Skater 3.
Rio is a fictional level located in Rio de Janeiro.
Rio is a competition level, competition is called Quiksilver Rio Ruckus.
In PS1 version of a game, there is hidden developer (Shaba) message, in the secret area. A message is on written the wall and its in Portugese : "A competição seja advertida! Os jogos de Shaba sao deus". In English, it means : "Competition Be Warned! Games from Shaba are god."
Christ the Redeemer statue can be noticed on the top of the hill.
Level contains several extra areas that player can access by jumping over the walls.
In the PS1/N64 versions, there would be a slope in the back of the level that leads to the back alleys/balconies.
Community content is available under
CC-BY-SA
unless otherwise noted.