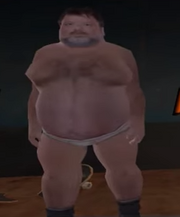 Phil Margera (born July 13, 1957) (also known as "Fat Boy") is one of the stars of Jackass and a supporting character in Tony Hawk's Underground 2. He is the father of Bam Margera and often the butt of the joke during the World Destruction Tour. At the end of the game, Tony Hawk and Bam trick Nigel Beaverhausen by showing him footage of Phil sitting on the toilet instead of the World Destruction Tour footage.
Phil can also be unlocked by completing Story Mode on Easy. He has a special trick called "Don't Feed Phil" that shows him devouring a submarine sandwich.
Along with Eric Sparrow and Nigel Beaverhausen, Phil is one of the unlucky characters in Tony Hawk's Underground 2, as he is stuffed into the back of Tony and Bam's van, is attacked by a Bull in his hotel room, gets snapped by a mouse trap, and is recorded sitting on the toilet.
Community content is available under
CC-BY-SA
unless otherwise noted.