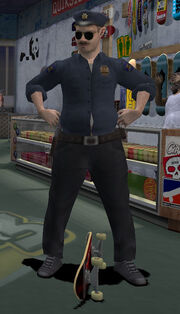 Officer Dick is a fictional character. He appeared in multiple titles, this includes THPS, THPS2, THPS3, THPS4 (can be assembled in CAS mode), THPSHD.
THPS2 Bio
As a youth, poor Richard Ennvee was deemed a 'Poser' by other skaters. Distraught and overtaken, by the need for revenge, Dick vowed to some day become what those skaters feared most... the long arm of the law!
Origin
In THPS N64 TV commercial Tony Hawk is followed by three fat cops on skateboards. His name is probably a reference to a constant conflict between skaters and policemen.
Outfit
Officer Dick wears typical unclean US police uniform. In THPS2 there is alternate outfit which represents Officer Dick in his home wearing. In PS1 version of THPS3 Officer Dick appears to wear SWAT uniform.
Exclusive special tricks
THPS1
THPS2
THPS3
Trivia
Gallery