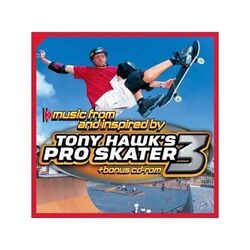 Music from and inspired by Tony Hawk's Pro Skater 3 is the title of the official THPS3 soundtrack. It was released on October 16, 2006 by Warner Bros. Records. It featured 13 songs from artists like: Papa Roach, NOFX, etc. It only contains two songs from the actual in-game music.
Track listing
"What's The Matter With Parents Today?" - NOFX
"Summer" - Sum 41
"Wish" - Alien Ant Farm
"Who's On Your Side" - Pennywise
"Follow" - Drowning Pool
"B.O.B. (Bombs Over Baghdad)" - Outkast
"New World Order" - Onesidezero
"Infest" - Papa Roach
"Pepper" - Millencolin
"Questions" - Hometown Hero
"Melt Me Down" - Pressure 4-5
"Cut Chemist Suite" - Ozomatli
"Deftones" - Head Up
Bonus CD contains additional video material:
Check: Videos of Tony Hawk and "Tony Hawk's Pro Skating 3"
Twist: Interview with Tony Hawk and bio.
Grab: Image gallery and desktop backgrounds.
900: Video of Tony Hawk's 900, Panoscan YMCA, Multi-view Trick Analysis.
Scab: Video of Tony Hawk stacking.
External links
Community content is available under
CC-BY-SA
unless otherwise noted.