The Mat Hoffman's Pro BMX game series is a short-lived BMX-themed video game series, which includes only 2 games. It is known for usage of THPS mechanics and game basics.
First Game
Edit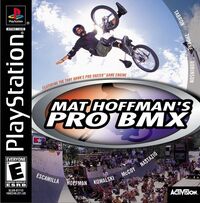 Mat Hoffman's Pro BMX is the first game in the series, developed by Runecraft and published by Activision. It uses the Tony Hawk's Pro Skater game engine.
As in THPS1, each level in MHPB includes 5 classic goals like high score, pro score, collect T-R-I-C-K letters, collect/break 5 items, find hidden cover. Unlike THPS, there are only two competition maps.
Each biker has two different BMX bikes in the options mode, powerups are added after completing a level. The game also features a create-a-park mode.
Tony Hawk appears in MHPB as a secret character and two THPS levels are unlockable - Warehouse and Burnside.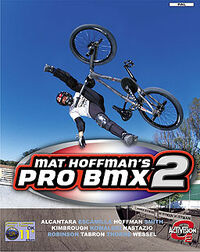 Mat Hoffman Pro BMX 2 is the sequel to Mat Hoffman's Pro BMX. It is available for the GBA, Nintendo GameCube, PS2, and Xbox. It was part of Activision's short-lived O2 line of extreme sports games. Like the first game, this game uses the game engine from Tony Hawk's Pro Skater.
Appearance in Tony Hawk's games
Edit
In N64 version of Tony Hawk's Pro Skater 2 Hoffman Bike Factory level from MHPB is a playable bonus level. PlayStation version of the game provides MHPB Demo whichis available from options menu.  With a little modding one could sucessfully play the level on the PC version of the game.
In Tony Hawk's Pro Skater 4, Mat Hoffman appears as NPC and gives player tasks in Kona and Chicago. Also Chicago level is originated from MHPB2.
In Tony Hawk's American Wasteland, Mat Hoffman appears in the game as a playable character, since the game has the ability to ride bikes. He starts out on a skateboard, although the player can switch between a skateboard and a bike only in free skate and story mode.
Characters
Edit
Volcano (unlockable)
Vanessa (unlockable)
Bigfoot (unlockable)
Mime (unlockable)
Hoffman Bike Factory
Construction Yard
London Underground
Bluetorch Competition
New York City Park
Treatment Plant
La Habra California
CFB Competition
THPS1 Warehouse
THPS1 Burnside
GBA Levels
Hoffman Bike Factory
Construction Yard
London Underground
The Park
The Works
CFB Competition
GBC Levels
Hoffman Bike Factory
Construction Site
Rotterdam Dockyard
Old Jail Yard
C.F.B. Tournament
Oklahoma City, OK
Chicago, IL
Las Vegas, NV
New Orleans, LA
Portland, OR
Los Angeles, CA
Boston, MA
Tiki Park, HI
Soundtrack
Edit
Outkast - "B.O.B." (from Stankonia, 2000)
B-52's - "52 Girls" (from their 1979 self-titled debut album)
Pennywise - "Wouldn't It Be Nice" (from their 1991 self-titled album)
Jurassic 5 - "Great Expectations" (from Quality Control, 2000)
Face to Face - "Icons"
Static X ft. Dead Prez - "Hip-Hop"
The Stone Roses - "Fool's Gold (Grooverider Mix)" (from The Stone Roses, 1989)
Agent Orange - "Everything Turns Gray" (from Living in Darkness, 1981)
Ten Foot Pole - "Racer X" (from Ten Foot Pole, 1993)
Paris - "Break the Grip of Shame" (from The Devil Made Me Do It, 1990)
Bad Brains - "Banned in DC" (from their 1982 self-titled debut album)
Fluke - "Absurd (Mighty Dub Katz Mix)" (from Risotto, 1997)
Newcleus - "Computer Age (Push the Button)" (from Jam on Revenge, 1984)
20 Minute Crash - "The CFB Song"
Pailhead - "I Will Refuse" (from Trait EP, 1988)
Fila Brazilia - "Bugs Bite Back" (from A Touch of Cloth, 1999)
Deltron 3030 - "Positive Contact" (from their 2000 self-titled debut album)
Apocalypse Hoboken - "Congested" (from Microstars, 1999)
N.E.R.D. - "Rockstar" (from In Search of..., 2001)
Fugazi - "Guilford Fall" (from End Hits, 1998)
Suicidal Tendencies - Institutionalized (from their 1983 self-titled album)
LL Cool J - "Rock the Bells" (from Radio, 1985)
Iggy Pop - "The Passenger" (from Lust for Life, 1977)
Eric B. & Rakim - "Juice (Know the Ledge)" (from Don't Sweat the Technique, 1992)
Ice-T - "Reckless" (from Reckless, 1984)
Crazy Town - "Toxic" (from The Gift of Game, 1999)
Bad Brains - "I Against I" (from I Against I, 1986)
Dub Pistols - "Official Chemical" (from Six Million Ways to Live, 2001)
Gang of Four - "Damaged Goods" (from Entertainment!, 1979)
Digital Assassins - "Return of the Living Bassheads (Somethin' Really Bad)" (from Original Master, 1999)
Swollen Members feat. Moka Only - "Fuel Injected" (from Bad Dreams, 2001)
MC Cool Rock- "Boot the Booty" (from vinyl, 1988)
Spoon - "Take a Walk" (from Girls Can Tell, 2001)
Bomfunk MC's - "Freestyler" (from In Stereo, 1999)
Secret Hate - "Kevsadic" (from Pop Cult Vomit, 2000)
Jazzhole - "Forward Motion" (from The Jazzhole, 1994)
Dislocated Styles - "Unified" (from Pin the Tail on the Honkey, 2001)
Bad Ronald - "All a Dream" (from their 2001 self-titled debut album)
Community content is available under
CC-BY-SA
unless otherwise noted.