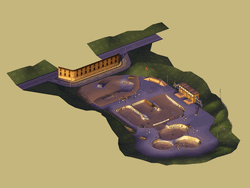 Marseille was initially featured as the first competition level in Tony Hawk's Pro Skater 2. It returned in the classic mode of Tony Hawk's American Wasteland exclusively for the collector's edition of the game on the PS2. Later, it was ported to Tony Hawk's Project 8 as a free skate level on the PSP version only. Most recently, it was brought back in Tony Hawk's Pro Skater HD.
This level is based on the real life skate park located in the city of Marseille, France.
Multiplayer layout (THPS2)
[
edit
|
edit source
]
The secret area is removed, and the sky is completely yellow. There are also certain details missing, such as flags on the announcer's booth.
High Score - 500,000 points
Pro Score - 900,000 points
Sick Score - 1,750,000 points
High Combo - 400,000 points
Collect S-K-A-T-E
Collect C-O-M-B-O
Get the secret tape!
Do a Left flip Over the Lil' 4
Frontflip Over the Table
Lip Trick the 3 Extensions
High Score (100,000) - $2,500
Pro Score (200,000) - $3,000
Sick Score (400,000) - $4,000
Find the Secret DVD - $2,350
Collect S-K-A-T-E - $2,750
Collect 5 Competition Medals - $2,300
Grab Trick Over The Lil' 4 - $2,250
Nosebluntslide 3 Tables - $2,500
Destroy 5 Speakers - $2,350
100% Goals and Cash - $4,000
Marseille was the only level available in the public demo.
In order to access the hidden area, the player has to break the wooden plank holding up the post inside the planter.
In early games that featured Marseille as a playable level, you weren't allowed to jump over the fence.
There is a unique police car driving around the streets in Marseille.
Marseille was the first level in the series to be located outside of the United States.
The Marseille PA announcer only has a single phrase at the beginning of the competition. At the time of development, it was planned to add more announcer reactions. Three additional phrases can be found in game's audio files.
In other ports of Pro Skater 2, the fountain in the secret area isn't shown with a geyser (implying it's not operational), but in Pro Skater 2X, the fountain is operational.
Caricatures of former President and First Lady of the United States Bill & Hillary Clinton appear as graffiti within the level. Their depiction in the level is never explained, though it's possibly just another example of the Clinton's, particularly Bill, being the subjects of comedy and various parodies at their expense during their time in the White House.
Community content is available under
CC-BY-SA
unless otherwise noted.