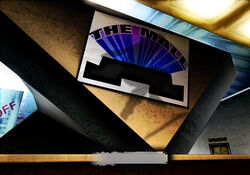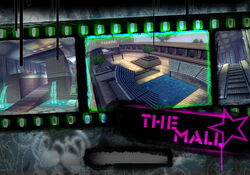 Mall is a level from Tony Hawk's Pro Skater. It also appeared later in Tony Hawk's American Wasteland classic mode, the PSP version of Tony Hawk's Project 8 classic mode, and Tony Hawk's Pro Skater HD. Most recently, remastered in Tony Hawk's Pro Skater 1 + 2.
Mall is located in New York City. Being a classic downhill level, it seems that Mall is a compilation of typical spots that you can find in real malls (parking, bar, fountains, escalators, elevators).
In THPS 1 + 2, the mall appears dilapidated, complete with weeds growing about the place, lit flares on the floor and some structures slightly ruined, implying that some unknown disaster happened in the area, or that the mall has simply been closed down (the banners around the upper fountains read "90% off Mall Closing SALE", which confirms the latter) and converted into a homeless shelter.
In THPS:
To unlock in a career, 18 Goals need to be completed in previous levels.
High Score - 10,000 Points
Destroy 5 Directories
Get S-K-A-T-E
Hidden Tape
Pro Score - 30,000 Points
In THAW:
High Score - 100,000 Points
Pro Score - 200,000 Points
Sick Score - 300,000 Points
High Combo - 60,000 Points
Collect S-K-A-T-E
Collect C-O-M-B-O
Get the Secret Tape
Impossible over the 16-set
Airwalk over the Escalator
Smash 5 Directories
High Score - 20,000
Pro Score - 80,000
Sick Score - 150,000
High Combo - 15,000
Collect S-K-A-T-E
Smash 5 Directories
Find the Secret Tape
Nose grind the Coffee Grind Gap
Airwalk the Flying Leap Gap
Collect 5 Toy Robots
The only "secret' in Mall is the small extra room near the fountain. The Player has to break the glass door to access it, then the other wall of the room will disappear.
There is nothing outside the mall in THPS1 and THPS2X, but in THAW you can notice a few trees and flags there as well as the real sky.
Breaking the last glass door in Mall would end the run instantly in THPS1. In THPS2X, THAW, THPSHD, and THPS1+2 it teleports the skater back to the start instead.
In THPS1, THPS2X and THAW, Mall is set in the daytime, but in THPS HD and THPS1+2, Mall is set in the night.
In Pro Skater 1, the boxes at the end of the level in the PS1/Dreamcast version are advertising the game Apocalypse, whose engine served as the foundation for Pro Skater, but in the N64 version they advertise Edge Of Reality, who developed the N64 port; however, if you have an Expansion Pak, the back has a picture of a mysterious female. In Pro Skater 2X, the boxes advertise Kelly Slater's Pro Surfer, and in American Wasteland, they advertise Pro Skater 1.
Community content is available under
CC-BY-SA
unless otherwise noted.