watch 02:43
The Loop (Games)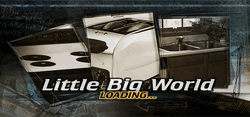 Little Big World is the final level featured in the PlayStation 1 version of Tony Hawk's Pro Skater 4. This level is set on a giant kitchen counter. It features a sink, stove, toaster, book, utensils, pieces of cheese, and a pot all of which can be grounded. There is also a trail of matches which can be grounded. There appears to be a fridge with magnets but it doesn't have any purpose other than decoration. The corners are outfitted with many wooden rails for grinding. Anything beyond the kitchen counter is inaccessible except for a window sill which is used for gaps. If a skater falls off the side of the counter, then he will be teleported back to the previous spot. However, it is possible to grind along the edges of the stove and counter.
Like the other levels in Tony Hawk's Pro Skater 4, the player is expected to complete a checklist of gaps. If the player manage to complete the checklist, then they will be rewarded with a new cheat. Otherwise, they will need to accomplish the checklists for the other levels.
Trivia
The clock on the stove reads 10:01, although the breakfast in on the stove.
It is unknown as to whether the skater is shrunk or the kitchen is literally gigantic.
This level isn't available in any other version of Tony Hawk's Pro Skater 4.
Most of the gaps in Little Big World are named after items related to food.
Gallery
Community content is available under
CC-BY-SA
unless otherwise noted.