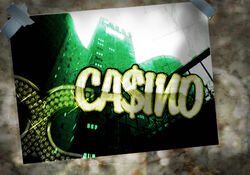 Las Vegas is a level in Tony Hawk's Underground 2 Remix. It is located in Las Vegas, Nevada. After Las Vegas, like in New Orleans, the majority of Team Tony gets arrested, leaving only the player and Tony Hawk alone. The level re-appears in Tony Hawk's American Wasteland, only the level is renamed as the "Casino", the elevator is gone, and it is relocated at East Los Angeles, California.
Origin
[
]
The level takes place in a casino in Las Vegas. The level is an indoor/outdoor casino with a casino section, a shopping mall with a bar, swimming pools and a waterfall. It has a gap called "Icarus' Descent" which comes from Greek mythology. So we can assume this takes place in Caesar's Palace.
Also of note, no casino with an aquarium elevator exists in Las Vegas. However, the elevator is based on the Aquadom, and was actually located in Berlin, Germany.
Trivia
[
]
In THUG 2 Remix, the only way to access the helipad is during The Equilizer mission or using the moon gravity cheat to wall jump to the area. Walking in the open door does not take you to where an entrance that would've existed in the level.
In THAW, the player can be able to access the high roller room with the moon gravity cheat, and the player will notice the room is empty, and he can break the glass.
Gallery
[
]