No Man's Sky Update - The Loop
Play Sound

Kareem Campbell (born November 14, 1973) is a professional skateboarder. He is known for his signature trick, the hardflip revert, or "Ghetto Bird". He began skating at age 16, tearing up the likes of Venice Beach on almost a daily basis. As a teenager, he was once showcased on America's Funniest Home Videos attempting to boardslide a rail, which he inevitably failed to do, and landed on his groin. He was well recognized for this though, and became a pro within 3 years of the incident, signing onto World Industries which at the time housed pros like Jason Lee. He quickly rose to the top as the number one African American skateboarder of all time.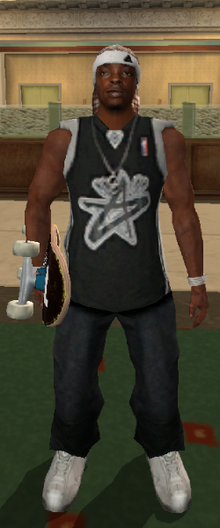 Kareem was featured as a playable skater from the debut of the Tony Hawk series, and reappeared in every game up to Underground, and did not rejoin the series again until Tony Hawk's Pro Skater 1 + 2, He was originally the only African American skater to be featured in the series, until American Wasteland, where Stevie Williams joined the roster of skaters.
Kareem Campbell is one of the five original characters that did not made a appearance in any Tony Hawk games since the first five games until Tony Hawk's Pro Skater 1 + 2, along with Rune Glifberg, Bucky Lasek, Elissa Steamer, and Jamie Thomas.
Gallery
[
]