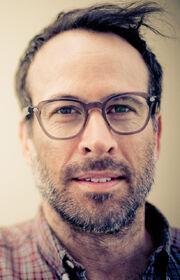 Jason Lee
(born April 25, 1970) is a professional skateboarder. He retired in the early 1990's. He only appears in
Tony Hawk's Project 8
.
Before he became an actor, Lee was known as a professional skateboarder in the late 1980s and early 1990s. In 1992, he co-founded Stereo Sound Agency, known as Stereo Skateboards, with fellow skater Chris "Dune" Pastras. In 2003, after the company had been defunct for a few years, the pair successfully revived the company. As of October 2013, Lee and Pastras remain on the professional "Classics" team roster.
Lee was featured in the skateboarding promotional video, Video Days, filmed for the skateboarding company "Blind Skateboards". In 2004, Lee's skateboarding was featured in Way Out East!, a film produced by Stereo Skateboards.
In August 2012, Lee was also featured in a brief video on the skateboard website The Berrics entitled "Jason Lee decided to come to the park."
In August 2012, Lee participated in the 9th annual Stand-Up for Skateparks Event, at which he was co-chair with Tony Hawk.The event is held annually by the Tony Hawk Charitable Foundation and seeks to "help create free, quality public skateparks for youth in low-income communities."
In October that same year, a video was released by the Keep A Breast Foundation, featuring various skateboarding identities, including Lee, together with Pastras. The video, contributing to the Foundation's aim to prevent and raise awareness of breast cancer, promotes the "I Love Boobies" bracelet. It also features Clint Peterson (Stereo) and Giovanni Reda (WESC), who are both teammates of Lee.
Professional skateboarder and owner of the Girl and Lakai Limited Footwear skateboard brands Mike Carroll cited Lee as one of his skating influences.
Community content is available under
CC-BY-SA
unless otherwise noted.