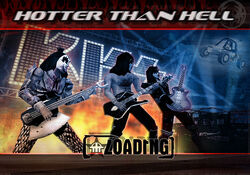 Hotter Than Hell is the ninth level in Tony Hawk's Underground that can be unlocked once all other story mode in-game levels are unlocked.
Hotter than Hell is based in the Australian outback on a large airstrip, and it features the band, KISS in concert after collecting all of the "KISS" letters scattered through the level. The majority of the map is a concert stage, however, players can roam the surroundings if they choose to.
Players can drive Trey Crawford's buggy in this map, which is located a little but further from the portaloos.
This map is famous for having the highest scoring gap in the game, Above All, which is worth 10,000 in-game points.
There are three KISS songs in the soundtrack, Rock and Roll All Nite, Lick It Up and God of Thunder.
This is the only level in THUG to be set in the Oceania continent. However, Hotter Than Hell does not feature as part of the main storyline and is instead, a reward for completion of the game.
The level's name Hotter Than Hell is a reference to the 1974 KISS album of the same name, which also shared a title with a song on the album, and to the hot climate of Australia.
Community content is available under
CC-BY-SA
unless otherwise noted.