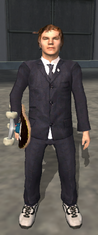 Geoffrey Joseph Rowley, Jr. (born June 6, 1976) is an English professional skateboarder. Geoff is highly regarded as one of the greater street skaters out there, performing many new tricks involving long staircase gaps. He is a very competitive skater and tries to enter street contests that test his limits.
He was one of the seven original characters who were removed from the series after Tony Hawk's Underground, along with Andrew Reynolds, Bucky Lasek, Elissa Steamer, Jamie Thomas, Kareem Campbell and Rune Glifberg. However, he was also one of the current two to return, as well as Reynolds (though Rowley would not return until Tony Hawk: Shred).
Community content is available under
CC-BY-SA
unless otherwise noted.