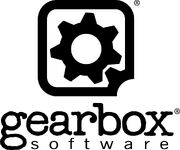 Gearbox Software, LLC is an American video game development company based in Plano, Texas, The company was founded on February 16th, 1999 by Randy Pitchford, Brian Martel, Stephen Bahl, Landon Montgomery and Rob Heironimus. Gearbox is most known for developing Borderlands and Brothers in Arms, they are also responsible for porting Tony Hawk's Pro Skater 3 to the PC.
Half-Life: Opposing Force
Half-Life: Blue Shift
Half-Life (PlayStation 2) / Half-Life: Decay
Half-Life (Sega Dreamcast) / Half-Life: Blue Shift (Sega Dreamcast)
Brothers in Arms: Road to Hill 30
Brothers in Arms: Earned in Blood
Brothers in Arms: D-Day
Brothers in Arms (Nintendo DS)
Brothers in Arms: Hell's Highway
Brothers in Arms: Double Time
Borderlands
Borderlands 2
Borderlands: The Pre-Sequel!
Borderlands: The Handsome Collection
Duke Nukem Forever
Duke Nukem 3D: Reloaded (On Hold)
Aliens: Colonial Marines
Battleborn
Counter-Strike: Condition Zero
Halo: Combat Evolved (PC Port)
James Bond 007: Nightfire (PC Port)
Community content is available under
CC-BY-SA
unless otherwise noted.