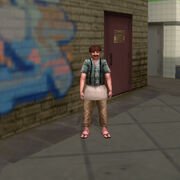 Frenchie is a fictional skater and story character in THAW.
Frenchie missions
Edit
Wall Tricks
Edit
Meet up with Frenchie who's standing in the alley near the bus stop. He's gonna show you how to do a few wall tricks that can only be done when you're off your board. The first up are the wall run and the wall flip. The wall flip can be a little difficult because you've got to hold up to run up the wall then quickly hold down and jump to flip. The key here is to move the controller from up to down as quickly as possible. It may take some practice, but eventually you'll get the hang of it. He'll then show you the wall shimmy, which is just moving from left to right as you're holding the edge of the wall, and the tucks which are front and back flips made while running around off of your board.[1]
References
Edit
Community content is available under
CC-BY-SA
unless otherwise noted.