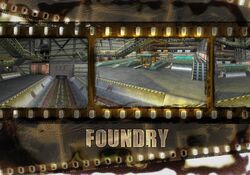 Foundry is the first level in Tony Hawk's Pro Skater 3, and the only playable level in the Tony Hawk's Pro Skater 3 Demo. The level is set in a workshop or factory made for casting metal, thus, the name Foundry.
High Score: 10,000 points.
Pro Score: 30,000 points.
Sick Score: 60,000 points.
Collect S-K-A-T-E
Get the Secret Tape
Cannonball Over The Halfpipe (Vert)
50-50 TC's Rail (Street)
Soak the Foreman
Grind The Molten Bucket
Un-Jam 5 Valves
A similar looking factory is found while playing through GTA V's Deathwish mission, and because Rockstar Games tends to be as accurate as they can with their games, it is safe to say this is a real life location, for the most part anyways.
See also
Edit
Community content is available under
CC-BY-SA
unless otherwise noted.