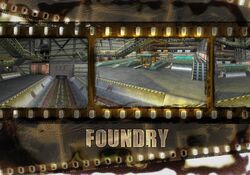 Foundry is the first level in Tony Hawk's Pro Skater 3, and the only playable level in the Tony Hawk's Pro Skater 3 Demo. The level is set in a workshop or factory made for casting metal, thus, the name Foundry.
High Score: 10,000 points.
Pro Score: 30,000 points.
Sick Score: 60,000 points.
Collect S-K-A-T-E
Get the Secret Tape
Cannonball Over The Halfpipe (Vert)
50-50 TC's Rail (Street)
Soak the Foreman
Grind The Molten Bucket
Community content is available under
CC-BY-SA
unless otherwise noted.