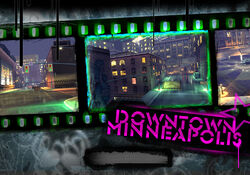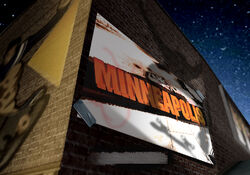 Downtown, or Minneapolis, is a level from Tony Hawk's Pro Skater. Later it reappeared in Tony Hawk's American Wasteland and the PSP version of Tony Hawk's Project 8 as a part of classic mode.
Origin
The level is set in Minneapolis, Minnesota, but the environment is fictional.
Multiplayer layout
Players can only skate around the park. There are no taxis nor other buildings or roads from the single-player version until the later games where players can skate in the full version of the levels.
Trivia
In early Beta versions this level originally contained a statue of the "Bruce Willis" character model from the "Apocalypse" video game (Also developed by Neversoft). This was replaced with a water fountain in the final release. There was a parking garage in beta versions of the level, but was removed in the final versions.
Level specific
Taxis which are riding across the map allow player to perform Car Plant trick.
Taxi driver quotes
"Move, idiot!"
"Ha, ha, ha!"
"Crazy kid!"
"Get out of the street!"
Goals
Tony Hawk's Pro Skater
High Score - 15,000 points
Break 5 "No Skating" Signs
Get S-K-A-T-E
Find Hidden Tape
Pro Score - 40,000 points
Tony Hawk's American Wasteland
High Score - 30,000/100,000 depending on difficulty setting
Pro Score - 60,000/200,000 also depending on difficulty setting
Sick Score - 100,000/300,000 also depending on difficulty setting
High Combo - 10,000/75,000 also depending on difficulty setting
Collect S-K-A-T-E
Collect C-O-M-B-O
Get the secret tape
Indy Over the Fountain
Hardflip Over the Red Carpet
Ollie over 5 barriers
Gallery