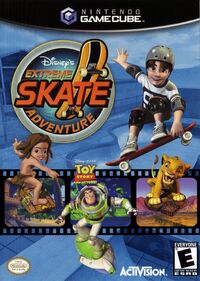 Disney's Extreme Skate Adventure is a sports video game released in 2003. It was developed by Toys For Bob and published by Activision. This game uses the same game engine as Tony Hawk's Pro Skater 4, which was developed by Neversoft.
Pride Rock
The Elephant Graveyard
Scar's Canyon
Andy's Bedroom
Pizza Planet
Xrghthung (Zurg's World)
The Jungle Treehouse
The Human Camp
Clayton's Ship
Smash Mouth – "Pacific Coast Party"
TRUST Company – "Downfall"
Basement Jaxx – "Where's Your Head At?"
Simple Plan – "Grow Up"
Jump5 – "Spinnin' Around"
Simon & Milo– "Get a Clue"
Audiovent – "The Energy"
Reel Big Fish – "Sell Out"
G.R.I.T.S. – "Here We Go"
Newsboys – "Live In Stereo"
Lisa W. – "Perfect Kinda Day"
Allister – "Somewhere on Fullerton"
Community content is available under
CC-BY-SA
unless otherwise noted.