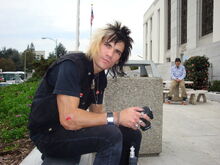 Corey Duffel is a professional skateboarderfrom Walnut Creek, California. He was born on April 11, 1984 as William Corey Duffel to Steve and Sharon Duffel. He is known for fast-pace, performing tricks on big gaps, rails, stairs, big wallrides and other large obstacles (for example, the freeway gap in Foundation Skateboard's 2007 "Cataclysmic Abyss" video). His skating stance is Goofy. Duffel rides for his original sponsor, Metro, in his hometown.
Duffel began skateboarding at age ten, and turned pro at age eighteen.
Duffel's sponsors include Foundation Skateboards, Osiris Shoes, Venture Trucks, Mob Grip, Pig Wheels, Metro Skateboard Shop, Armourdillo, CCS magazine, Skullcandyheadphones, and Swiss Bearings.
Duffel works with mentor Michael Davis' Music Is Revolution Foundation, raising money to support music education in public schools. Davis and Duffel collaborated on fashion and skate items for Foundation.
He has a tattoo of a spider on his back, which appeared on one of his skateboard graphics. He also has tattoos of his dogs' names on his arm in a heart with a dagger, and his 7th Seal deck on his rib, which features the Grim Reaper playing chess. In an interview in Transworld Magazine, Corey describes it as a battle between him and the reaper. In the tattoo however, his king has been knocked over. He has a 45 RPM record tattooed on his chest. Corey Duffel promotes two pro model Shoes with Osiris Footwear named The Duffel and The Corpse.
He apears in Tony Hawk: Shred
Community content is available under
CC-BY-SA
unless otherwise noted.