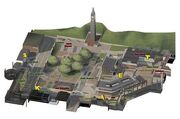 College is the first level in Tony Hawk's Pro Skater 4. The level introduces the player to goals that may be played anytime during the career mode, without a time limit, unlike the previous games. The medium sized college campus contains several buildings including a class hall, a dorm building, and a dining hall, all of which the player can enter. A few other buildings are included, but are inaccessible. The campus is situated in a city where the player may roam free also, with the exception of two streets that can not be entered.
Origin
The College is situated in California and based on Berkeley University of California. At the early stage of development there were rumours that the whole game would take place in California.
Trivia
College may be loosely referred to as "School 3," hence the "Sch" in the prefix of the College game files.
A Nokia airship can be seen roaming around the College.
There is an actual stadium outside the College, but the skater can't access it.
College and Zoo ' are the only levels in Pro Skater 4 to have three mini-games available for play.
It is possible to jump into the back of the clock tower and launch out from the top of it.
Gallery
Community content is available under
CC-BY-SA
unless otherwise noted.