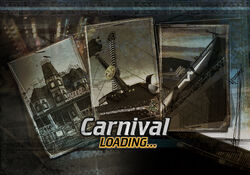 Carnival
is the eighth level in
Tony Hawk's Pro Skater 4
.

Carnival is a locked level that requires it to be bought through the store in the main menu. This map includes various missions and Carnival related things, such as rides.
Gallery
Trivia
On this level, there's a "Haunted house" ride that the player can go through.
There is a section near the Rockets Ride where you can hop the wall and encounter a aligator chasing you, if it collides with you it will count as out of bounds.
If you enter a tea cup on the tea cup ride, it will trigger a unique out of bounds.