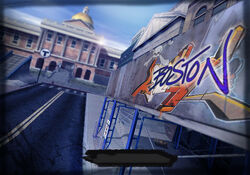 Boston is a story mode level in THUG2. It is also the first level in the World Destruction Tour.
This level is based on the city of Boston, Massachusetts. Cheers (Jeers), the Boston Duck Tours (Water Tour), the Massachusetts State House, the MBTA Commuter Rail, and the Equestrian Statue of George Washington from Boston Public Garden are featured in this level.
If the player sets their board on fire and grinds the two cannons, a cutscene will play of the two cannons firing at the construction site directly in front of it, thus destroying the site.
If the player turns right at the start, and right again, they will find two apartment buildings. In one is a geeky kid who dances (reference to the "Star Wars Kid" viral video from 2002). In the other one, the player will find a man dancing in front of a goat.
If the player sticker slaps the ATM near the Riboff Bank, a whole load of money will pour out of the ATM.
If the player sticker slaps the Port-a-Potty next to the Tea Party Boat, the Port-a-Potty will fall over exposing human excretions.
According to screenshots you would have been able to play as Tony Hawk during this period of the game. But this was removed for unknown reasons.
In the Beta version the Purple car from Hawaii was supposed to appear in traffic here but was removed for unknown reasons.
The Graffiti tag on the billboard looked MUCH different in the beta version.
The Blue B.B van from Australia originally spawned here but was cut for unknown reasons. (It was more than likely for continuity.)
Community content is available under
CC-BY-SA
unless otherwise noted.