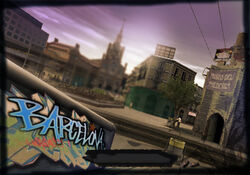 Barcelona is the third level in the Tony Hawk's Underground 2's story mode. It picks up from where Boston (or Atlanta in THUG2 Remix) left off, as Team Tony stretches towards the lead again.
The city is also featured in Tony Hawk: Ride.
Barcelona is split into 3 areas, Estacion Sants, Parc Guell and Maremagnum located in Port Vell. All of them are real world locations that can be found in Barcelona, Spain. Notable buildings include MACBA (Museu d'Art Contemporani de Barcelona), Casa Mila (also known as La Pedrera), Cinesa Maramagnum.
In the Parc Guell area, the player can teleport to the Tram top, if they enter through the passage at the entrance of Parc Guell.
The player can actually Natas Spin on the guys riding a scooter on the road.
The player can throw tomatoes at the salesmen, selling the tomatoes.
In Maremagnum, if the player rides into the shop, they will get launched from an AC duct, onto a boat.
In Barcelona, "CKY" is spray painted on an out-of-bounds wall. This is most likely thanks to Bam Margera.
There is an Easter egg where there is a Gingerbread Man looking out the Parc Guell entrance building window.
"La Pedrera" is misspelled as "La Perdrera" in the game.
External links
Edit
Community content is available under
CC-BY-SA
unless otherwise noted.