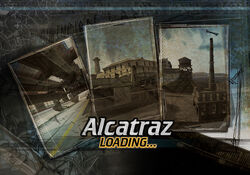 Alcatraz is the third level in Tony Hawk's Pro Skater 4.
Origin
Based on Alcatraz, a famous American prison located in San Francisco Bay.
Version Differences
The PS1 version of THPS4 has parts of the island cut off, most notably the skatepark area.
San Francisco can't be seen on the PSP version of THP8.
Gallery