Airport is the fifth level in Tony Hawk's Pro Skater 3's Career Mode.
It takes place at Osaka International Airport in Osaka, Japan, but it strangely had English text rather than Japanese.
It reappears in Tony Hawk's Underground 2 as a Classic Mode level, and in Tony Hawk's Pro Skater HD as downloadable content. The level has been recreated in the style of play and to match the graphics of each of the games that it has reappeared in.
Layout
The level is an airport terminal, including waiting room, baggage claim, baggage handling, toilets, customs and a helipad.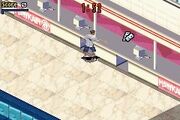 The level is significantly different in appearance in the GameBoy Advance version of Pro Skater 3, in keeping with the graphics and capability of the console.
Goals
Tony Hawk's Pro Skater 3
PlayStation 2, XBox, GameCube and PC
High Score: 75,000
Pro Score: 150,000
Sick Score: 300,000 
Collect SKATE
Find the Secret Tape
Airwalk Over An Escalator (Vert)
Crooked Grind around the Baggage Claim (Street)
Visit 10 Countries
Get the Tickets to your Skate Buddy
Stop the Pickpockets
Playstation
High Score: 40,000 
Pro Score: 100,000 
Sick Score: 200,000 
Collect SKATE
Snag the Flags
Lost luggage found!
Nosebluntslide the Airport Sign
Grind the Plane
Find the Secret Tape
100% goals, stats and decks
GameBoy Advance
High Score: 55,000 
Pro Score: 110,000 
Sick Score: 200,000 
Find the Secret Tape
Collect SKATE
Crooked Grind The South Bench (Street)
Airwalk Over the X-ray Machine (Vert)
Find the Lost Skateboard
Bring Tickets to the Family
Grind Over The Airplane
Gain 4 Stat Points
Tony Hawk's Underground 2
High Score: 125,000 
Pro Score: 250,000 
Sick Score: 400,000 
High Combo: 80,000 
Collect SKATE
Collect COMBO
Crush the Suspicious Suitcases
Nose Manual the Escalator Slope
Nosegrab Over the 'copter
Find the Secret Tape
Ea

ster Eggs
In Tony Hawk's Pro Skater 3, the helipad was considered an easter egg in the level, as it is only reachable by skating onto the baggage deposit conveyor belt, or grinding up a steep escalator from the baggage collection area. However, due to the implementation of getting off one's board in Tony Hawk's Underground 2, the helipad became significantly easier to reach via the escalator, retracting its easter egg status. The goal "Nosegrab over the 'copter" was even included, making the helipad a vital part of the gameplay.
Trivia
In THUG 2, if the player skates into one of the steel doors at the end of the level, they will teleport back to the start.
In THPS HD, Airport is set in the night, unlike the other games.
In THPS3 and THPS HD, there are police officers guarding the bottom of the escalators. They will knock you down if you go anywhere near them.