Activision Inc. is an American video game developer and publisher. It was founded on October 1, 1979, and was the first independent developer and distributor of video games for gaming consoles. Its first products were cartridges for the Atari 2600 video console system. Activision is now one of the largest third party video game publishers in the world and was also the top publisher for 2007 in the United States. On January 18, 2008, Activision announced they were the top US publisher in 2007, according to the NPD Group.
On December 2, 2007, it was announced that Activision would be acquired by Vivendi Games. The merger took place on July 9, 2008, with the newly formed company Activision Blizzard, owned by the French company, Vivendi.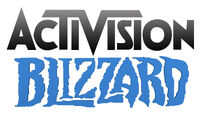 Activision Blizzard, Inc. was an American video game developer and publisher, partially owned by conglomerate Vivendi SA. The company is the result of a merger between Activision and Vivendi Games, announced on December 2, 2007 in a deal worth USD$18.8 billion. The deal closed July 9, 2008.
Community content is available under
CC-BY-SA
unless otherwise noted.